The Happy Dog Playland is a place for you to explore, engage, experience and express all that makes your dog happy!
---
Looking for something fun to do?
Photo credit: Michelle Meiklejohn
SMITHTOWN, NY -- A disabled veteran trains with his service dog at America's VetDogs headquarters. America's VetDogs provides guide and service dogs to disabled veterans and active duty personnel; physical and occupational therapy dogs for VA and military hospitals; and combat stress control dogs to be deployed overseas. It is the premier provider of assistance dogs for disabled veterans and the military.
For more information on the programs available or how you can help please visit the website at http://www.vetdogs.org.
Watch these dogs trying to communicate with their people. They actually sound out the repeated words. Enjoy!
The National Fire Protection Association (NFPA)'s Sparky the Fire Dog turns 60 this year! Happy Birthday, Sparky!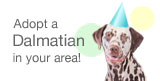 In honor of his year long celebration, a new educational matching game was developed which teaches preschoolers about smoke alarms. The game is now available on Sparky's website, www.sparky.org.
"We know from NFPA statistics that children under age five are nearly one and a half times as likely to die in a home fire as the general public," said Amy